Toilet Lift Seat – Washlet (UC-TL-18-A6)
About Toilet Lift
Product Tags
The Ucom's Toilet Lift is the perfect way for those with mobility impairments to increase their independence and dignity. The compact design means it can be installed in any bathroom without taking up too much space, and the lift seat is comfortable and easy to use. This allows many users to toilet independently, giving them a greater sense of control and eliminating any embarrassment.
| | |
| --- | --- |
| Loading Capacity | 100KG |
| Support times for a battery full charge | >160 times |
| Working life | >30000 times |
| Water-proof grade | IP44 |
| Certification | CE,ISO9001 |
| Product Size | 61.6*55.5*79cm |
| Lift height | Front 58-60 cm( off ground) Back 79.5-81.5 cm( off ground) |
| Lift angle | 0-33°(Max) |
| Product Funtion | Up and Down |
| Armrest Bearing weight | 100 KG (Max) |
| Power supply type | Direct power plug supply |
Toilet Lift Seat – Washlet with lid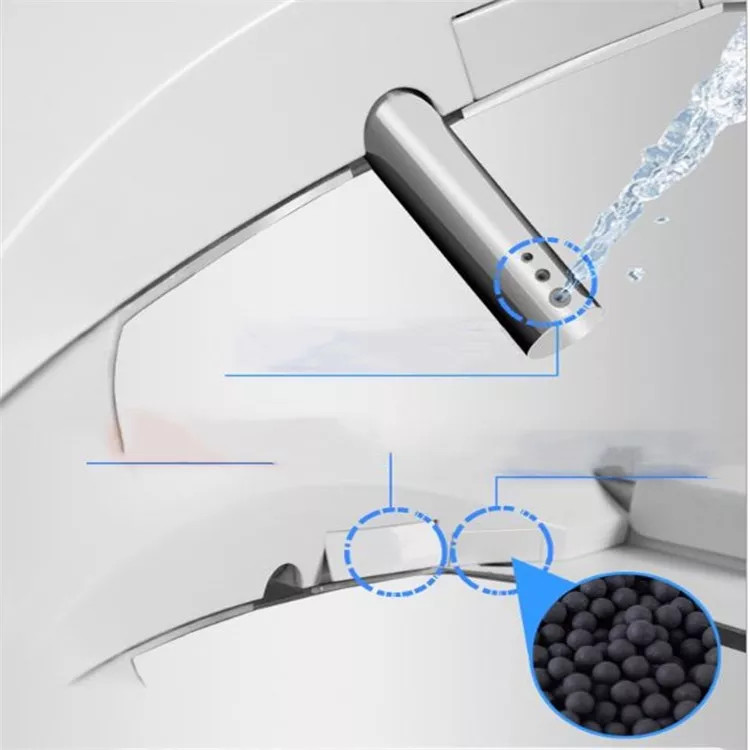 This multifunctional toilet lift provides lifting, cleaning, drying, deodorizing, seat heating, and luminous features. The intelligent cleaning module offers customizable cleaning angles, water temperature, rinse time, and strength for both men and women. Meanwhile, the intelligent drying module adjusts drying temperature, time, and frequency. Additionally, the device comes with an intelligent deodorant function, which guarantees a fresh and clean feeling after each use.
The heated seat is perfect for elderly users. The toilet lift also comes with a wireless remote control for easy operation. With just one click, the seat can be lifted or lowered, and the device is ergonomically designed with a 34-degree up and down shape. In case of emergency, there is an SOS alarm, and the non-slip base ensures safety.
We are excited to announce that our products are now available in the United States, Canada, the United Kingdom, Australia, France, Spain, Denmark, the Netherlands, and other markets! This is a huge milestone for us, and we are grateful for the support of our customers.
Our products are designed to help people live healthier lives, and we are passionate about making a difference. We offer distribution and agency opportunities, as well as product customization, 1 year warranty and technical support options. We are committed to providing the best possible experience for our customers, and we look forward to continuing to grow and improve with their support.
Accessories for different types

Accessories

Product Types

UC-TL-18-A1

UC-TL-18-A2

UC-TL-18-A3

UC-TL-18-A4

UC-TL-18-A5

UC-TL-18-A6

Lithium Battery

 

√

√

√

√

 

Emergency Call Button

Optional

√

Optional

√

√

Washing and drying

 

 

 

 

 

√

Remote Control

Optional

√

√

√

Voice control function

Optional

 

 

 

Left side Button

Optional

 

Wider type (3.02cm extra)

Optional

 

Backrest

Optional

Arm-rest(one pair)

Optional

controller

 

 

 

√

√

√

charger

 

√

√

√

√

√

Roller Wheels(4 pcs)

Optional

Bed Ban and rack

Optional

 

Cushion

Optional

If need more accessories:

hand shank




(one pair, black or white)

Optional

Switch

Optional

Motors(one pair)

Optional

 

 

 

 

 

 

 

NOTE:The Remote Control and Voice control function, you just can choose one of it.




DIY configuration products according to your needs
Q: Are you a factory or a trading company?
A: We are a professional Healthcare Supplies equipment manufacturer.
Q: What kind of services can we provide to buyers?
1. We offer a one-piece drop-shipping service that eliminates the need for inventory and reduces costs.
2. We offer the lowest price for joining our agent service and online technical support. Our quality guarantee ensures that you'll be happy with the service you receive. We support joining agents in countries and regions all over the world.
Q:Compared with peers, what are our advantages?
1. We are a professional medical rehabilitation product company with over 20 years of experience in offline production and manufacturing.
2. Our products come in many different varieties, making us the most diverse company in our industry. We offer not just wheelchair scooters, but also nursing beds, toilet chairs, and disabled lifting washbasin sanitary products.
Q:After purchase, if there is a problem with quality or use, how to solve it?
A: Factory technicians are available to help solve any quality problems that may arise during the warranty period. In addition, each product has an accompanying operation guidance video to help you troubleshoot any usage issues.
Q: What's your warranty policy?
A: We provide 1-year free warranty for wheelchairs & scooters by non-human factor. If something goes wrong, just send us pictures or videos of the damaged parts, and we'll send you new parts or compensation.
---
Previous:
Toilet Lift Seat – Luxury Model
---
Write your message here and send it to us