Toilet Lift Seat – Basic Model
About Toilet Lift
Product Tags
The Smart Toilet Lift is a product that has been specifically designed for people with limited mobility. It is perfect for the elderly, pregnant women, disabled people, and injured patients. The 33° lifting angle is designed according to ergonomics, providing the best knee angle. In addition to the bathroom, it can also be used in any setting with the help of special accessories. This product promotes independence and ease in our daily lives.
Get up from and down to the toilet easily. If you're finding it difficult to get up from or down to the toilet, or if you need a little help standing back up, an Ukom toilet lift could be the perfect solution for you. Our lifts give you a slow and steady lift back to the upright position, so you can continue using the bathroom independently.
The Basic Model Toilet Lift is a great option for any toilet bowl height.
It easily adjusts to fit bowl heights of 14 inches to 18 inches. This makes it a perfect choice for any bathroom. The toilet lift also has a sleek, easy to clean seat with a chute design. This design ensures that all fluids and solids end up in the toilet bowl. This makes cleanup a breeze.
The Basic Model Toilet Lift is the perfect fit for almost any bathroom.
Its width of 23 7/8" means it will fit in the toilet nook of even the smallest bathrooms.
The Basic Model Toilet Lift is perfect for almost everyone!
With a weight capacity of up to 300 lbs, it has plenty of room for even the plus-sized individual. It also has a wide seat, making it just as comfortable as an office chair. The 14-inch lift will raise you up to a standing position, making it safe and easy to get up from the toilet.
Main functions and Accessories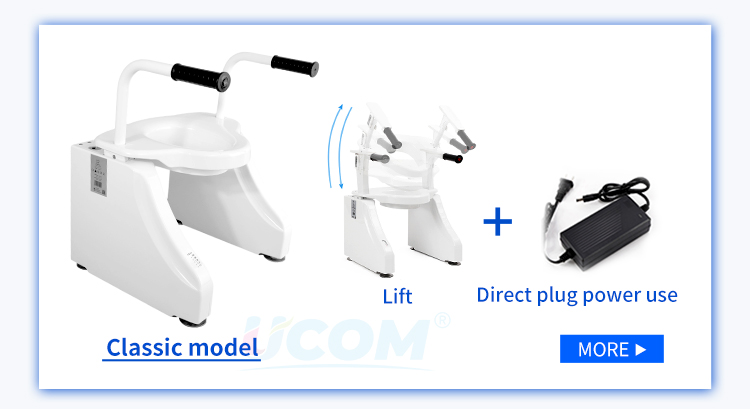 Installing an Ucom toilet lift is easy! Simply remove your current toilet seat and replace it with our Basic Model Toilet Lift. The Toilet Lift is a little heavy, but once in place, it's very stable and secure. The best part is that installation only takes a few minutes!
With the increasing severity of global aging, governments of all countries have taken corresponding measures to address the aging of the population, but they have achieved little effect and spent a lot of money instead.
According to the latest data from the European Bureau of Statistics, by the end of 2021, there will be nearly 100 million elderly people over 65 years old in the 27 countries of the European Union, which has entirely entered a 'super old society'. By 2050, the population over 65 years old will reach 129.8 million, accounting for 29.4% of the total population.
The 2022 data show that Germany's aging population, accounting for 22.27% of the total population, exceeds 18.57 million; Russia accounted for 15.70%, more than 22.71 million people; Brazil accounted for 9.72%, more than 20.89 million people; Italy accounted for 23.86%, more than 14.1 million people; South Korea accounted for 17.05%, more than 8.83 million people; and Japan accounted for 28.87%, more than 37.11 million people.
Therefore, against this background, Ukom's lift series products are particularly important. They will have a huge demand in the market to meet the needs of the disabled and elderly for using the toilet.
Our products are now available in the United States, Canada, the United Kingdom, Australia, France, Spain, Denmark, the Netherlands and other markets! We're excited to be able to offer our products to even more people and help them lead healthier lives. Thank you for your support!
We are always looking for new partners to join us in our mission to improve the lives of seniors and provide independence. We offer distribution and agency opportunities, as well as product customization, 1 year warranty and technical support worldwide. If you are interested in joining us, please contact us!
Accessories for different types

Accessories

Product Types

UC-TL-18-A1

UC-TL-18-A2

UC-TL-18-A3

UC-TL-18-A4

UC-TL-18-A5

UC-TL-18-A6

Lithium Battery

 

√

√

√

√

 

Emergency Call Button

Optional

√

Optional

√

√

Washing and drying

 

 

 

 

 

√

Remote Control

Optional

√

√

√

Voice control function

Optional

 

 

 

Left side Button

Optional

 

Wider type (3.02cm extra)

Optional

 

Backrest

Optional

Arm-rest(one pair)

Optional

controller

 

 

 

√

√

√

charger

 

√

√

√

√

√

Roller Wheels(4 pcs)

Optional

Bed Ban and rack

Optional

 

Cushion

Optional

If need more accessories:

hand shank




(one pair, black or white)

Optional

Switch

Optional

Motors(one pair)

Optional

 

 

 

 

 

 

 

NOTE:The Remote Control and Voice control function, you just can choose one of it.




DIY configuration products according to your needs
---
---
Write your message here and send it to us